VMC 1100
7″ Vehicle mount computer with touchscreen and multiple trackers
Brand: NEXCOM
Category: Industrial Computers, Embedded Pcs, Embedded boards, Panel PC & HMI
NEXCOM has released a 7-inch vehicle mount computer VMC 1100 to increase operational efficiency and regulatory compliance for vehicle fleets. Based on Intel® Atom™ processor E3825, the VMC 1100 has built up capabilities of information visualization, data logging, vehicle tracking and monitoring, and data communication. By consolidating functions of portable navigation devices (PND), electronic logging devices (ELD), and fleet telematics systems (FTS) onto one reliable hardware platform, the VMC 1100 enables mobile workforces including truck fleets, police patrols, and fire and emergency medical service (EMS) squads to excel at work.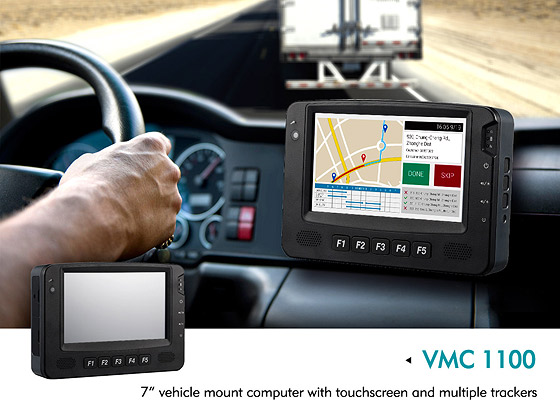 Main Features
Powerful Intel® Atom™ processor E3825
Splendid 7-inch touchscreen with WVGA resolution
Compact and fanless design
Programmable function keys
Built-in GPS with optional dead reckoning support
Wireless communication with 3.5G/LTE/Wi-Fi support
Dual CAN bus support with optional OBDII
Compliant with SAE J1113, ISO7637-2 and SAE J1455 regulations
Extended operating temperature
Smart vehicle power management
Wide Range DC input from 9 ~ 36V
The VMC 1100 has an integrated Intel® HD Graphics and supports up to 4GB of DDR3L memory. The VMC 1100 can display work orders, route navigation, graphical data, and integrated information that are imperative for mobile workforces. For ease of use and to prevent distracted driving, the VMC 1100 has five function keys to offer single-step access to, for instance, Hours-of-Service (HoS) records, print command, and other user-defined functions. The VMC 1100 is built with a GPS and CAN bus interface to collect abundant vehicle data. From the regulatory perspective, the vehicle mount computer can maintain the driver's record of duty status (RODS) by compiling vehicle geo-location, engine hours, and odometer readings. In the fleet manager's view, the VMC 1100 can monitor vehicles to ensure drivers follow designated paths and guidelines. Additionally, the VMC 1100 supports optional onboard diagnostics II (OBD II) interfaces with a variety of signaling protocols so to be used with different vehicles made by different automakers.