NEX604 for
Embedded Applications
Brand: NEXCOM
Category: Industrial Computers, Embedded Computer, Embedded boards, Panel PC & HMI
NEXCOM has launched two industrial motherboards based on the Intel® Atom™ D2550/ 1.86GHz dual-core processors with integrated graphic PowerVR SGX 545 (GMA 3650@640MHz/ DX9). NEX 604 is equipt with Intel® NM10 Express chipset and targeted at embedded and industrial applications, whilst the new NEX 605 incorporates an ICH10R chipset which enables connection to six SATA interface devices making it the ideal Mini-ITX embedded board for use in a variety of storage, security, surveillance, and multimedia deployments. In addition, unlike the majority of commercial Mini-ITX platforms, NEX 604 and NEX 605 are built to an industrial-grade standard thus giving them an advantage in terms of reliability and durability. Furthermore, because NEX 604 and NEX 605 are based on components that are featured on Intel's Embedded Roadmap, both platforms have an extended life cycle, making them the perfect foundation on which to base your system.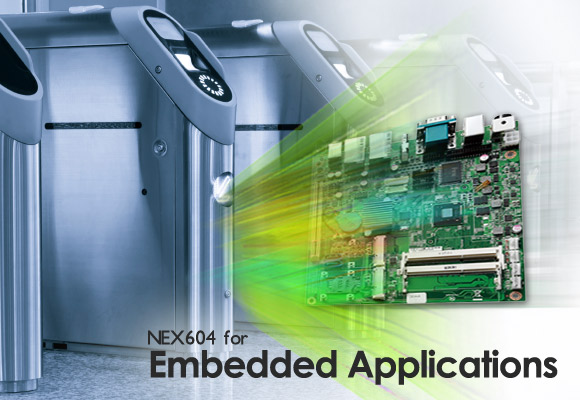 Comparison between NEX 604 and NEX 605
Model
NEX 604 for Embedded Application
NEX 605 for Storage and Multimedia
CPU
Intel® Atom™ Processor D2550
1M Cache, 1.86 GHz
Memory
Dual DDR3/ SO-DIMM up to 4GB SDRAM 800/ 1066Mhz
Display
(A choice of two)
VGA
HDMI
1x single-channel 24-bit LVDS (by DF13-20DP)
Chipset
NM10
ICH10R
Dual Gigabit Ethernet
Dual Realtek 8111E
Dual Intel® 82574L
Storage
2x SATA 2.0
5x SATA 2.0/ 1x eSATA or
4x SATA/ 2x eSATA (by Jumper)
RAID
–
Software RAID 0, 1, 5 and 10
I/O Interfaces
4x RS232
6x USB
–
Line- out/ MIC-in
PS2/ KB & Mouse
LPT (26-pins box-header)
4x RS232
8x USB
Line- out/ MIC- in
PS2/ KB & Mouse
LPT (26-pins box-header)
Expansion
1x Mini-PCIe (full-size/ SIM tray)
1x Mini-PCIe (Half-size)
1x slot PCI (32/33Mhz)
1x Mini-PCIe (full-size/ SIM tray)
–
1x slot PCIe x4
Power Input
DC+12V (mini-DIN or 2x2pins ATX)
Standard ATX
Applications
Data Logging
Mobile Communication
Embedded Networking
Industrial Gateway
Digital Signage
Retail/ Hospitality/ Banking
Medical Healthcare / Storage Server
Security Surveillance
NEX 604 for Embedded Applications
NEX 604 provides support for dual DDR3/SO-DIMM up to 4GB SDRAM 800/ 1066Mhz system memory, dual SATA ports for embedded MLC/ SLC-based SSD, and dual Gigabit Ethernet ports for network communication. NEX 604 also supports dual display with HD video output via VGA, HDMI, and user-friendly LVDS interface by DF13-20DP with a seven-pins box-header to support +12V inverter for backlight enabled control LCD panel. For applications that require additional expansion, NEX 604 is equipped with a PCI slot. NEX 604 is equipped with dual mini-PCIe slots for applications that require 3G/SIM Tray and Wi-Fi connectivity such as data logging, mobile communication, networking gateway, and embedded focus applications.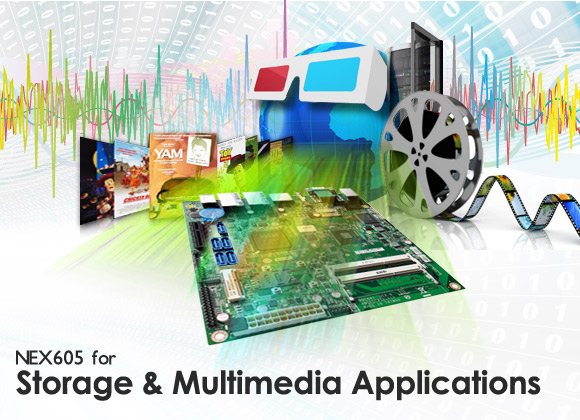 NEX 605 for Storage Server and Multimedia Application
Targeted at storage and multimedia applications, NEX 605 provides 5x SATA/ 1x eSATA storages (Option 4x SATA/ 2x eSATA by Jumper) and software support for RAID 0, 1, 5, and 10 with onboard Intel® ICH10R chipset. When equipped with 5x SATA-HDDs NEX 605 can support up to 8TB storage making it the best solution for Small-medium Enterprise security surveillance applications, graphics-intensive digital signage deployments, voice and video streaming as a networked storage service. CEM841 – Celeron J1900 supports 1x mini-PCIe for Wi-Fi or 3G/ SIM tray and has an extra PCIe x4 expansion slot for high-density I/O added-on card for your mission-critical application. NEX 605 supports dual displays and can play a wide range of multimedia file formats including MPEG2, H.264, and VC-1/WMV9, In addition, it can also playback Full HD 1080p contents via VGA and HDMI output for digital signage, retail, hospitality, banking as well as medical healthcare markets.