NISE 3142
Intel Core 2Duo/Celeron Processor-Based Fanless Computer
Brand: NEXCOM
Category: Industrial Computers, Embedded Pcs, Embedded boards, Panel PC & HMI
NEXCOM has rolled out a new open architecture fanless computer NISE 3142 which supports Intel® Core™ 2 Duo and Celeron® socket type processor. NISE 3142 is upgraded with two DVI-D and CFast SATA interfaces. It transfers data faster than its predecessor NISE 3140 and can present high-definition images simultaneously in dual large independent displays. The feature makes NISE 3142 apt for ESOP. Along with a fanless design, it can adapt to filthy environments rife with greasy dust. In addition, NISE 3142 with multiple I/O options is a future-proof solution, which is ideal for applications within industrial automation, factory automation, automatic optical inspection, ATMs, public infotainment, in-vehicle signage, and surveillance as well as data acquisition.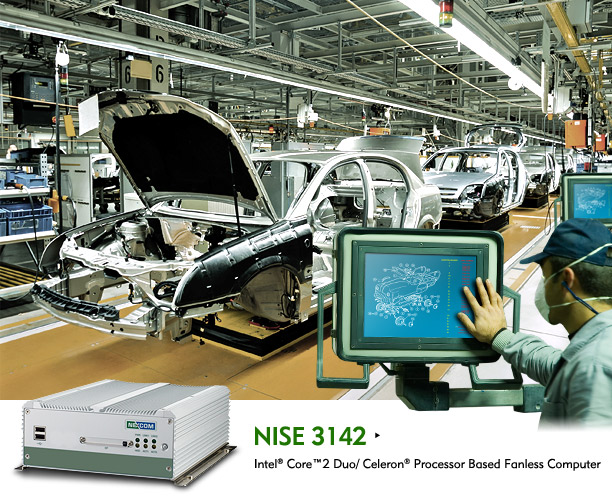 Main Feature
Support Intel® Core™ 2 Duo/ Celeron® processor
Intel® GM45 chipsets
Dual Intel® 82574L Gigabit Ethernet ports
Dual DVI independent displays
5 x RS232 and 1 x RS232/ 422/ 485 with auto direction control
One external locked CFast socket
On-board DC to DC power design to support 16V to 30V DC power input
Support ATX power mode and PXE/ WOL/ LAN teaming
Scalable for Future Expansion
The fanless NISE 3142 supports a wide range of processors from Intel® Core™ 2 Duo to Intel® Celeron® and therefore meets a wide range of budgetary requirements. NISE 3142 also features PCI/ PCIe add-on card expansion and can therefore be configured with various communication card combinations. Scalable NISE 3142 fulfills different performance requirements while retains the flexibility for a future processor upgrade.
Best for Dual Independent Display Applications
With the integrated Graphics Media Accelerator 4500MHD, NISE 3142 can deliver high-quality HD images and videos. Images and videos of better resolution and intensity can be presented on two independent displays via two DIV-D interfaces. With an integrated graphics engine, NISE 3142 also supports Microsoft multimedia APIs DirectX 10, MPEG-2 decoding, hardware acceleration for MPEG2, Blue-ray logo capable HD video playback, and rich visual experience of 3D images.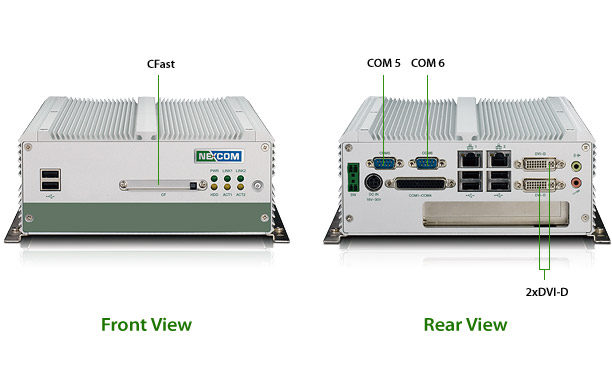 Superior Interfaces for Industrial Applications
NISE 3142 fanless computer is durable and suitable for use in harsh environments such as dusty warehouses. The fanless design frees NISE 3142 from the fan lifespan and drives down the maintenance cost accordingly.